Deep dive into the KILIAN PARIS olfactive families with the customisable discovery set
Enjoy KILIAN PARIS offers with our coffret of 5 iconic fragrances or choose 5 1.5ml perfume samples to create your own personalised discovery set.
Receive a gift voucher of a value of 26€ to use on your next order online with the purchase of one of our sets.
*The offer is available for 6 months only after the purchase of a sample discovery set. Only one coupon will be provided regardless of the number of samples discovery sets bought. Offer cannot be cumulated with other ongoing discount offers.
The 26€ coupon is redeemable against the purchase of a 50ml refillable perfume, a 250ml carafe or a 30ml travel set only (new products excluded).
About KILIAN PARIS discovery set
Try your KILIAN PARIS perfume picks before purchasing the full sizes ! Choose five 1,5ml perfume samples and try them at home.
Dive into the heart of the Fresh perfumes and take a sip of sparkling citrus, aquatic notes or refreshing aldehydes. These fruity perfumes with citrus scents will bring you freshness and lightness.
Explore the intoxicating power of flowers with the Narcotics: from the charm of orange blossom and gardenia to the opulence of rose and tuberose, KILIAN PARIS floral perfumes are highly addictive.
Discover the Cellars selection, the KILIAN PARIS woody fragrances: sandalwood, cedar, oud, patchouli or vetiver are twisted with a hint of rum, coffee, cocoa, cognac or whisky… A nod to Kilian Hennessy's legacy.
Flirt with the forbidden and let yourself be carried away by the Smokes, a timeless selection of incense, Bakhoor and tobacco leaves that capture the refined aromas of authentic volutes of smoke.
Discover Kilian Hennessy most personnal collection with the liquors: perfumes deeply inspired by his childhood.
These fragrances and sets for men and women are the most personal creations of our founder, paying tribute to his Hennessy heritage.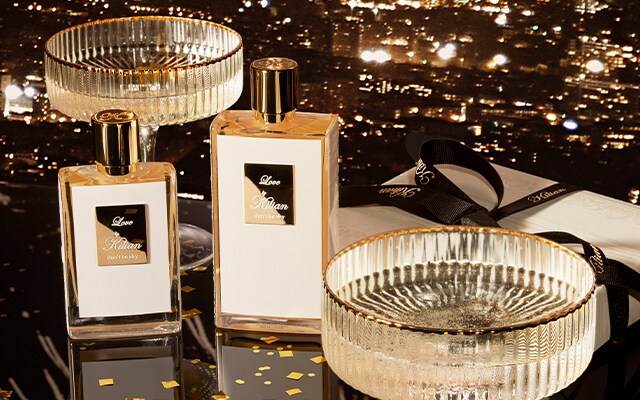 Icons
Discover our iconic scented creations.